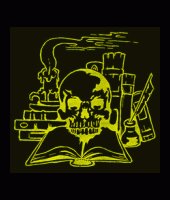 Bound for Evil is now at the printers. The book is currently ahead of schedule for its early March debut. Before sending it to the printers, I did several things to enhance the book:
1. I added another 32-page "signature" making
Bound for Evil
now 800 pages.
2. I moved
R. E. Hartman
's creepy little tale
"The Book of Faces"
from the free promo chapbook, into
Bound for Evil
, bringing the number of stories to 64.
3. Unable to resist having a total of
66 stories (split up into 6 sections)
, I then added the classic Alfred Noyes weird tale "Midnight Express" and Eugene Field's humorous poem "Dibdin's Ghost."
4. I then sprinkled in well
over 2 dozen illustrations
by World Fantasy Award-winner
Allen Koszowski
.
5. Finally, I've placed yet
another bookish story,
hidden somewhere in the pages of
Bound for Evil
. I'll leave it to the reader to find it.
Upon publication, I may need to slightly increase the price of

Bound for Evil

in order to cover the additional printing costs. For now, I'll leave the pre-order price at $80. Pre-orders still receive a free promotional chapbook featuring an extra bookish story.
Here's the Table of Contents:
introduction: the secret lives & evil times of diabolical books

Tom English

.....xiii


bound for evil:
in the beginning
genesis for dummies

Patrick LoBrutto

.....3



scratch paper


the devil's manuscript S

. Levett Yeats

.....7
the book

Margaret Irwin

.....22
the devil & nathaniel hawthorne

Skadi meic Beorh

.....36
the devil in manuscript

Nathaniel Hawthorne

.....41
the grimoire

Montague Summers

.....48
the book of cain

Michael D. Winkle

.....66
canon alberic's scrap-book

M. R. James

.....85
flames in the night

John R. Platt

.....96
fine print

Mark McLaughlin

.....102
damek

T. A. C. Amaral

.....111
fahrenheit clark ashton

Glynn Barrass

.....127
boek van namen

Lorne Dixon

.....135
pact anthology

John Teehan

.....145


a not-too-gentle madness
the bibliomaniac's prayer

Eugene Field

.....153
book worm

Jeffrey Thomas

.....154
leather, dark and cold

Simon Strantzas

.....162
limited edition

Andrew J. Wilson

.....173
windows to the soul

JG Faherty

.....182
if i had a hundred tongues

Barry Baldwin

.....190
a collection of true evils

Barry Napier

.....197
the incomplete works of william shakespeare

Rick Moore

.....215
the strange bequest of simon bray

Tom English

.....228
the story of edward hardiman

Michael Lovell

.....243
the door, the lock, the key

R. Michael Burns

.....252
happiness

Ian Shoebridge

.....269
dibdin's ghost

Eugene Field

.....288


the romance of certain old books
the dunwich horror

H. P. Lovecraft

.....291
the adder

Fred Chappell

.....329
finding the book of sand

Rhys Hughes

.....347
worse than bones

Ramsey Campbell

.....354
letters home

Erin MacKay

.....367
prosecuted, banished, and shot

Jeff Ryan

.....387
the reading room

Orrin Grey

.....389
midnight express

Alfred Noyes

.....398
the book in the earth

Lavie Tidhar

.....403
the yellow sign

Robert W. Chambers

.....416
the book

H. P. Lovecraft

.....432
weird chronicle

Rui Cruz

.....435
the narconomicon

David M. Fitzpatrick

.....449


reference work
guidance

Gary McMahon

.....467
the almanack

Saki

.....477
practical time travel

Vincent L. Scarsella

.....482
a lesson in therapy

Angeline Hawkes

.....499
cormac's mirror

Ben Thomas

.....513
recipe for disaster

John Llewellyn Probert

.....526
the guest book

Gary Fry

.....539
mechanix

Christopher Fulbright

.....557
an antique land

John Shire

.....565
the reference book

Louise Norlie

.....577
the book of faces

R. E. Hartman

.....591
the dark and the young

Ian Rogers

.....595
the book of revelation

Mark Tullius

.....620



misadventures in reading


association copy

Barbara Roden

.....634
a fatal distraction

J. Michael Shell

.....665
one copy only

Ramsey Campbell

.....671
the thief with two deaths

Chris Willrich

.....685
the alzheimer's book club

Jill Zeller

.....706
readers digested

Jeff Ryan

.....714
the truth inside the lie

Terri Nixon

.....716
browsers

Mark Leslie

.....732
don't read them after midnight

Josh Vogt

.....739
trunk story

Kurt Newton

.....749
lem's last book

Rhys Hughes

.....754
the new words

Jeffrey A. Rice

.....766
literature abuse
Michael McGrorty
.....777